Adult Porn CD Discs Amateur Swingers
Cartoon Porno Books
Please see TERMS listed below!
30's and 40's Porno Booklets on CD-1
These cartoons are not only funny - they are hilarious!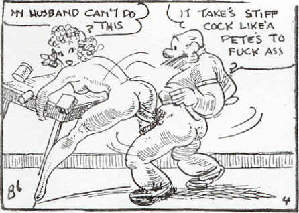 CD's contain 9 complete books plus 6 modern porn pictures.
My father left these to me when he passed away in 1972. I had to use tweezers
to remove the rusted staples and soft gloves in handling because
they were so fragile and brittle to handle. This is what porn was like in the
20's, 30's and 40's. I remember sneaking them out of my dads hiding place
in the attic, take them out to the barn, read them and whack my dick silly.
You will absolutely enjoy these rare cartoons and will be the life of the
party showing them to friends and family. All in high resolution JPG format.
You will enjoy:
Chris Crusty - "Fucking up a Storm"
Joe Penner - "Wants to buy a Fuck"
Maizie - "The Farmers Wife"
Major Hoople - "Board and Bed"
Olive Oyl - "Give Variety a Whirl"
Pete's Sausage - "Pete didn't forget Her Sausage"
Sammy Cohn - "Little Guys Have Big Ones"
Teekeela - "He gets in her Hair"
Tessie - "Is Still With Us"
A bargain in nostalgia comic cartoons
for only $20.00 +postage via U. S. Mail
(the softcover book will be mailed to you)
A bargain in nostalgia cartoons
via CD mailed to you
Your total cost is $20.00 +postage
(the CD rom in PDF format will be mailed to you)